Florida Keys Tarpon Fishing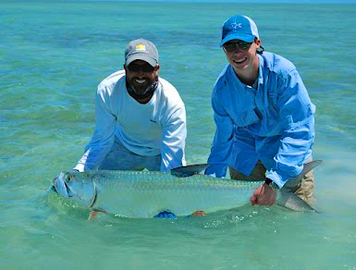 Fly fishing for tarpon in the Florida Keys is as good as it gets! The Florida Keys offer anglers the best tarpon fishing in the world. Thousands and thousands of tarpon show up each spring for their annual migration. The waters of the Florida Keys are gin clear and the fish can be easily seen sometimes from hundreds of feet away. Fly fishing for tarpon in the Florida Keys is one of if not the best way to catch these prehistoric fish. If a fly is properly placed, these magnificent beasts are more than willing to eat. Every year these fish migrate though our waters, offering fly-fishermen and light tackle anglers alike the most incredible sight fishing opportunities.
Each spring, the Florida Keys waters start to warm and the tarpon show up in back county basins in February and in March. During this time of year, taking a guided fly fishing trip in the Florida Keys back country will present endless opportunities. We target and find these fish in several different areas and sometimes the back country tarpon eat flies better than ocean side fish. These early season Florida Keys tarpon can be found "laid up" in basins resting with the current in their face. They may also be found where the tide pushes them against banks giving anglers perfect head on shots. Hiring a professional Florida Keys tarpon guide will ensure that your trip is safe and successful. The back country of the Florida Keys are very difficult to navigate and an experienced Florida Keys flats guide will get you to and from safely. Tarpon fishing in the back country of the Florida Keys continues to be good in through April and by May, most of the anglers have moved towards the ocean side where most of the fish are.
By May, the Florida Keys tarpon migration is in full swing. During prime time tarpon season, Florida Keys fly fishing guides turn their attention to the ocean side flats. Fly fishing for tarpon on the ocean side usually means staking off in a known tarpon migration route. Most of the ocean side Florida Keys tarpon grounds are over bright white sandy bottom. Anglers can expect to see lots of tarpon swimming directly at the boat giving you shot after shot. There is absolutely no better way to catch a tarpon on fly!

Year after year the tarpon in the Florida Keys swim know migration routes and your Florida Keys tarpon guide will position you and the skiff in the path of the fish. This will give you the opportunity to place a fly in front of the fish, giving you a perfect shot and hopefully getting a bite! Tarpon are very willing to eat if the fly is presented properly. If the shot is spot on and the presentation is good, be ready for one of the most explosive bites in fly fishing!
A typical day of fly fishing for tarpon in the Florida Keys starts with leaving the dock anywhere between six and eight am. If the tides and winds are perfect, fishing in the early hours of the morning can be very productive. Before the sun comes up and the winds start for the day, tarpon can be seen "rolling" from a long distance. "Rolling fish" are tarpon that come to the surface to gulp a breath of air. In low light situations, this gives away the fish's position making it much easier to cast at the target.

Once the sun comes up and is high enough to see the fish, most of the shots are at specific fish traveling down the flat. Your Florida Keys guide will help you pick the best fish to cast at and help you get the fly moving at the correct speed. Choosing the right fly is also extremely important. This greatly depends on the time of day, bottom color, tarpon depth and speed and the strength of current. We use a variety of different tarpon flies, some of which ride a foot or two below the waters surface or some that are high and up on top creating an explosive bite. By far the most productive and popular is the tarpon toad.

Every year in the Florida Keys a very special event takes place...the Palolo Worm hatch. This "hatch" occurs when the moon and tides are just right, and when this happens, we get several evenings of absolute tarpon madness. The Florida Keys tarpon know this hatch is going to occur and they pile up in specific areas in anticipation of this Palolo worm hatch. When the worms come off, the tarpon go nuts! Anglers can expect to cast and cast and cast at huge groups of fish coming right at the boat. A good angler can expect to jump many fish in just a short period of time. Landing the fish in not necessarily the goal, as hooking up and jumping fish is the best part. Once the fish settles down and most of the fly line in back on the reel, break them off, tie on a new tarpon fly and hook another magnificent Florida Keys tarpon.

March, April, May, and June are the prime time months with July also being excellent. There plenty of resident tarpon in the Florida Keys that provide a year-round fishery, but not enough to justify a last minute trip.

So if your looking for one of the most spectacular fighting fish in the ocean, come fish the Florida Keys with an experienced Florida Keys fly fishing guide!
The Florida Keys offer some of the best fly fishing for bonefish in the world! Our fish on average weigh 6 - 8 lbs. and are some of the most challanging to catch. Every year we find and catch fish in the double digit range making the Florida Keys bonefish some of the largest. Unlike other saltwater destinations, bonefishing in the Florida Keys requires a boat and an experienced Florida Keys guide. Many of our flats are soft and muddy making wading a challenge. Fly fishing from a flats boat also gives anglers an edge on seeing the fish before they get too close.
When the tides are right, bonefish will charge onto a flat and scurry around looking for food. Their primary diet is comprised of shrimp and crabs making fly fishing a perfect way to fool the fish. They show up as singles, doubles, or in groups ranging from 3 to 20 or more. Bonefish blend into the bottom and have the ability to change color depending on bottom type. They use this ability and their unmatched speed to hide from or out run their predators. Predators of the bonefish include sharks and barracuda.
Bonefishing is all about seeing the fish and making an accurate cast. Long casts are usually not necessary with thirty to forty feet enough to get the job done. Accuracy is more important than distance! If the cast is good, these fish are more than willing to eat! Once hooked, these extremely fast fish will take your fly, all of your fly line and much of your backing as they run for cover. They are known to make several reel screaming runs putting you deep into your backing several times.
Most of the bonefishing in the Florida Keys is done in one to three feet of water. Deeper water gives us an edge on the fish as we can get closer without spooking them. This depth helps make the fish feel comfortable and gives them an escape route off the flat. Because we are fishing slightly deeper water than other saltwater fly fishing destinations we tend to use more heavily weighted flies. The go to fly of choice for most of our bonefish flats is a heavy crab pattern. This allows us to get the fly down to the fish quickly and also keeps us ready for any permit that may show up.
If fishing to skinny water tailing bones is what you are looking for there are plenty of opportunities to be found. Many of our flats will hold bones in several inches of water that are sure to test even the most experienced of anglers. These fish are more difficult to catch often requiring a longer cast with a lighter fly.

Fly fishing for bonefish in the Florida Keys is a must do on any angler's "bucket list". For a challenge and a thrill of a lifetime, come see why most world record bonefish are caught in the Florida Keys.
Florida Keys Permit Fishing

Permit fishing in the lower Keys is as good as it gets! These magnificent creatures are the toughest to catch on a fly but the most rewarding. Sure there are places where the permit fishing is much easier, but no where else will you find as many big fish than right here in the lower Keys.

Permit are a deep water fish that visit flats to feed. These fish come up on edges and buzz around looking for a free meal. They can be found floating, charging, or mudding giving anglers the opportunity to toss a fly in their face. When a cast is made, either one of two things will happen. The fish will rush and inhale the fly or it will turn around and leave the flat in the blink of an eye.
These fish will drive an angler crazy! They are addictive and the most challenging species to catch on the flats. To watch a permit tailing with his face pinned to the bottom and the tail thrashing around at the surface is enough to turn the most experienced angler into a knee quivering mess. When everything comes together, and the fish eats, the reward can't be any bigger.
The Florida Keys has a decent redfish population that definitely requires some attention. These fish hang around mangrove edges, inside the mangroves and on the open flats. If they can be found, these are some of the easiest fish to fool with a fly, if you dare say easy.

Redfish are not as abundant in the Florida Keys as elsewhere, but there are enough fish that we get shots while bonefishing. They are targeted with the same gear as used for bonefish and permit so we are always ready.
Redfish are tough to see making them one of the most difficult species to find. Their coloring often matches the bottom giving them the ability to blend in with the surrounding environment. They are often encountered at dead low tide, and can be found "waking" or pushing water. These critters are willing to eat and if a fly is placed in the right spot, they will usually charge and inhale it.
The Florida Keys redfish are usually found in pairs or large groups. When you see one, keep a keen eye as there are usually more around. They are a schooling fish and feel most comfortable when they are with their own. While fishing the edges of mangroves we often see fish resembling sharks or other dark creatures. When pursueing further, often times these dark shapes magically turn into redfish. Even when shark fishing, it always pays to have a game fish rod rigged and ready.

Florida Keys Shark Fishing

Shark fishing in the Keys is a lot of fun! There are so many sharks in the Florida Keys that shark fishing is always an option. They provide anglers with non stop action and can even be a challenge when pursuing them with a fly. Sharks have poor eyesight and require very accurate casting. The fly needs to be place directly in front of the shark and then moved to get it's attention. Once the shark sees the fly, we let the fly sit motionless. Usually this results in very fast and aggressive take. Once the fly disappears, hit em' hard!
When we fly fish for sharks in the Florida Keys we mostly use flies that are durable and quick and easy to tie. Our shark flies are bright orange or red, you know...the color of a life jacket! We always use a wire leader tied directly to the fly to prevent the shark from chewing through. On most bonefish and permit flats we find sharks. It pays when looking for game fish to have a shark rod at the ready...and if you hold the shark rod, that's when the bones and permit show up! They even seem to show up at some tarpon spots once the motor is turned off...kinda like ringing the dinner bell.
When fishing is tough there are always plenty of sharks to be found. They are also a great species for novice fishermen as they will hang around giving the angler many shots. They can be targeted by sight fishing or by chumming and caught with flies or bait. Bait fishing for sharks is a must do on the flats. Chumming these magnificent right to the boat will get anyone's blood pumping. Once the scent hits the water it's only a matter of minutes before these meat eaters show up. The primary species we fish for are bonnetheads, lemons and blacktips.
Florida Keys Barracuda Fishing

Barracuda fishing in the Florida Keys is excellent during the colder months and they offer anglers a hard fighting jumping fish. Once the water cools off in the late fall, these huge predators start appearing on the flats. They feed on needlefish and other small bait fish and can be found just about anywhere. While casting flies at these fish is a lot of fun, the most productive method by far is using a spinning rod with a tube lure. These fish can be a bit spooky and the spinning rod allows the angler to cast much further. The best approach is to cast past the fish and retrieve the tube lure at a high rate of speed.

When the barracuda sees the tube, it must be moving away from the fish. If this is done properly the barracuda will usually exert a ton of energy and move with great speed to attack the tube lure. Once hooked, these fish can pull really hard and the bigger barracuda will often times jump giving everyone on the boat an aerial show.

Just like fishing for sharks and other toothy critters, we always use a wire leader because barracuda have razor sharp teeth. The tubes don't last long either as the teeth tear them up. The most productive colors have been either bright green or hot orange. December, January and February are the prime months with early March also being good.
Fly fishing for Jack Crevalle in the Florida Keys

Fly fishing for Jack Crevalle in the Florida Keys can be a ton of fun and they can show up at any time and anywhere. They frequently visit the same water that we find bonefish, tarpon and permit in so we are always on the lookout. They are an extremely aggressive fish and will eat just about anything tossed in front of them. We are always at the ready while fishing for our Florida Keys game fish and sometimes encounter huge schools on the flats.
Jacks are not only predators but scavengers as well. They are often seen following sharks and rays looking for a free meal. Some of the bigger jacks can be found on behind sharks as they cruise the flats picking up bits and pieces left behind. When we see jacks following sharks, it's pretty much a done deal. All the angler has to do is toss the fly over the sharks back and strip as fast as they can. Once the jack sees the fly, hold on because it's a fast eat and a hard pulling fish. It's easy to get a double hook up when we're around big schools because they don't usually spook too quickly. Every now and again the jack that was following the shark becomes shark food himself. Sometimes the commotion of a panicked fish will bring the shark back to inspect. If the fish is still on you may end up with just the head.
The Florida Keys has a decent sea trout population but not many people know where or how to find them. These are prized fish, fun to catch and make excellent table fare. We can target these fish both on fly and on spin gear and they usually pretty easy to catch. If you want to take a fish home to eat, this is one of the best. While fishing for the sea trout we often encounter lady fish, aka "poor mans tarpon". It's usually non stop action and a lot of fun especially for kids or beginners. We usually fish a little heavier bite tippet because of the lady fish and the every now and again encounter with Spanish Mackerel.